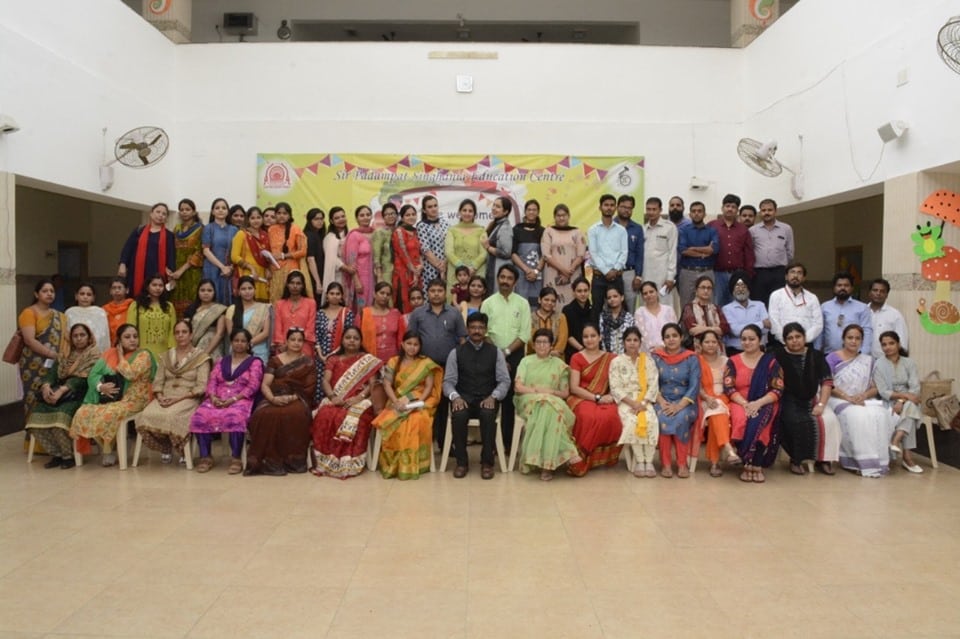 Art enables us to find ourselves and lose ourselves at the same time.
SPSEC organised a workshop for the Art and Craft Faculties in collaboration with Camlin India Ltd.The Resource Person,Mr S. Rajkumar established the significance of art and craft for the overall development of a child.The participants explored the advanced range of products so that their creative work makes the right impression.Around 80 teachers of 60 reputed schools of Kanpur left the venue revitalised.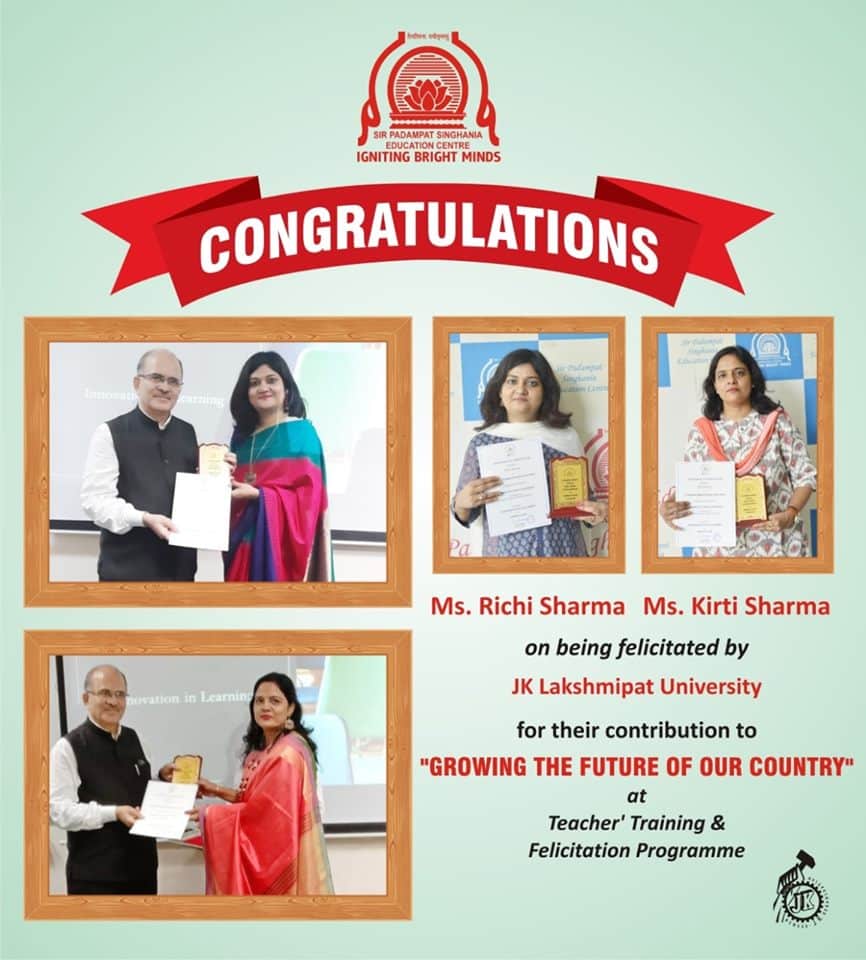 FELICITATION WITH APPRECIATION !!!
The joy of success grows manifold when it is appreciated and awarded. It was the momentous motive behind the Teachers' Felicitation Ceremony held at J.K. Lakshmipat University, Jaipur on 15. September, 2019. It was organized to acknowledge the contribution of the teachers who cross stupendous mileposts and aspire to set a new benchmark with their passion, planning and purpose in building towards the future of the students of the nation. Two considerate and thoughtful educators of SPSEC - Ms. Kirti Sharma,P.G.T Chemistry and Ms. Richi Sharma, P.G.T Informatics Practices were honoured.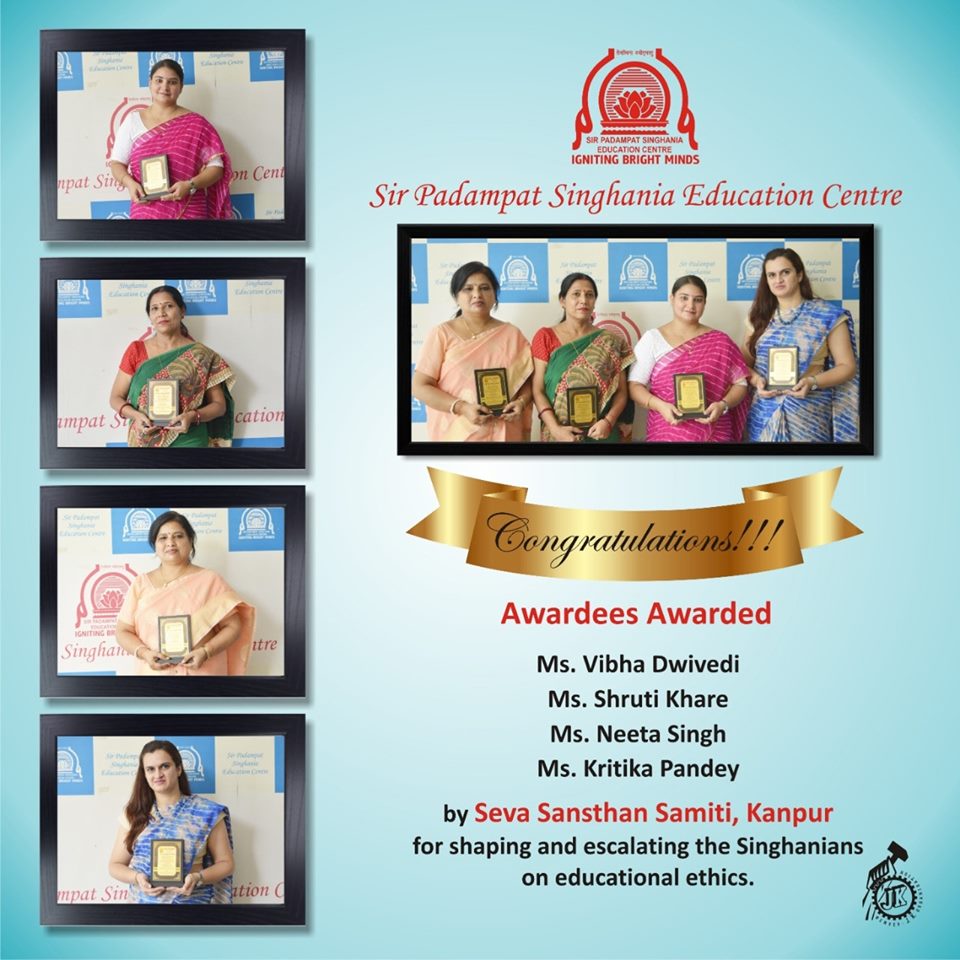 AWARDS TO AWARDEES !!!
SPSEC has surmounted success in the field of education by adding exultation to its crowning glory when four of its Affable, Thoughtful and Resourceful Educators - Ms. VIBHA DWIVEDI, Ms.SHRUTI KHARE, Ms. NEETA SINGH and Ms. KRITIKA PANDEY were honoured by Seva sansthan Samiti, an N.G.O. for patronizing the individuals by shaping young and bright minds and contributing immensely in the development of nation on educational ethics.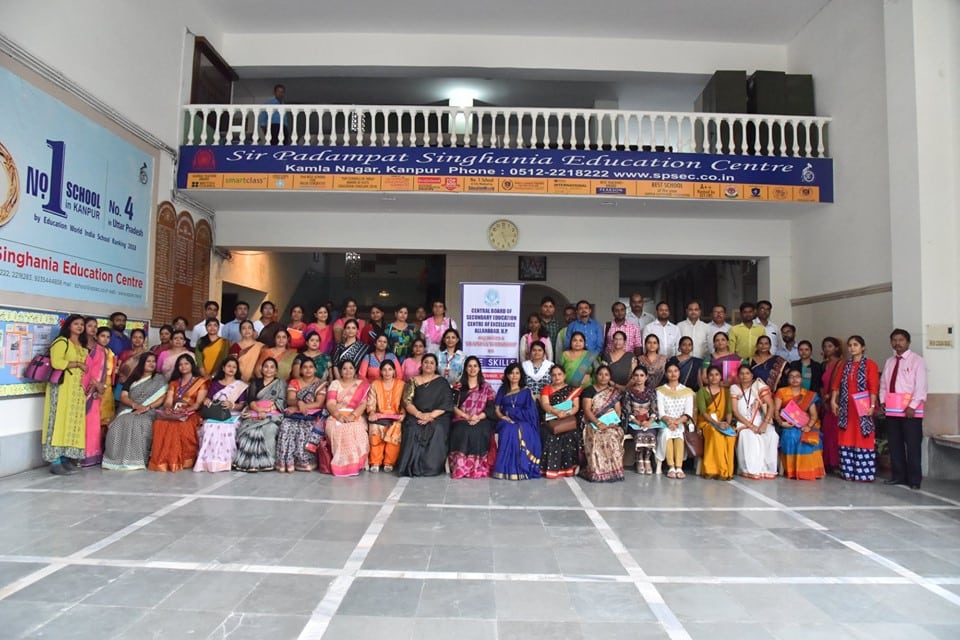 Whatever you can do, or dream you can, begin it. Boldness has Genius, Power and Magic in it. Begin it now
Capacity Building Programme on Life Skills; Teacher Training by CBSE was hosted by Sir Padampat Singhania Education Centre. An interactive day long workshop was conducted for encouraging teachers to develop their own set of life skills and use them to prepare the youth to face the challenges effectively. 64 teachers and Principals from reputed schools of and around Kanpur participated.