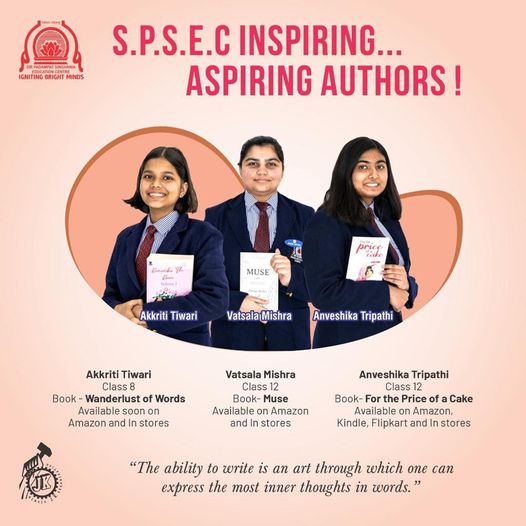 BLOOMING AUTHORS OF SPSEC
We are pleased to announce that the school has produced eloquent authors by setting a perfect platform and nurturing them in the process step by step. The three girl students have made us proud by getting their collection of poems & stories published.
Vatsala Mishra, Class 12
Name of the Book- Muse
Vatsala is a person who writes because she believes in the power of the pen. Her book MUSE is a collection of poems that reflect her outlook towards the world and her experiences in life. Her poetry has come a long way and the journey still continues.
Anveshika Tripathi, Class 12
Name of the Book- For the Price of a Cake
Anveshika has been into writing ever since she was a child Her book FOR THE PRICE OF A CAKE is a fictional story about an orphan girl who is loved by her grandmother immensely. The story revolves around a 12-year-old girl who wishes to fulfil her grandmother's desire of eating a cake on her birthday.
Akkriti Tiwari, Class 8
Name of the Book - Wanderlust of Words
Akkriti Tiwari has always been a curious child and an accomplished student. The writings in her book - WANDERLUST OF WORDS helps a person to see the elements in their daily lives and nature from the author's perspective in a different manner altogether. Each poem has a message to convey which is beautifully and intricately woven between the lines, and the message can differ from person to person.