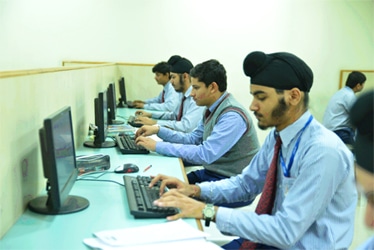 Computer Department of Sir Padampat Singhania Education Centre, Kanpur since inception has been the most important and effective tool of the institution. The department is enriched with brilliant, experienced and dynamic faculty, who has always generated the most prestigious results for school. The department faculty has tie-ups with Oracle, Microsoft, Apple, Adobe and many more national and international organizations.
Being a CBSE group institution, the department always follows the norms and guidelines issued from time to time.
We, at Senior Secondary Level of CBSE, have been the proud recipient of top scores in Computer Science and Informatic Practices in the town for several years.
The department has self-developed software's for Record Keeping, Marks Feeding and Analysis, Time Table Management, Automated Substitution Allotment, Attendance Keeping with SMS Enquiry System and much more. It has worked independently from the era of Foxpro to latest updated GUI versions of software development. From time to time we have also developed and managed the website for the institution both in dynamic and static version with and without CMS system.
The department has always been a core centre of Institutional Activities, thus play a vital role in almost all the events and activities held from time to time.