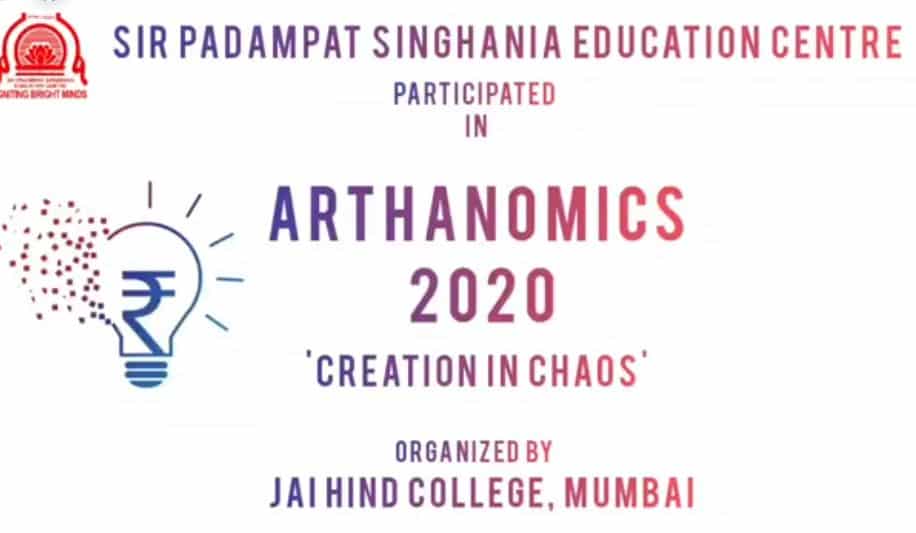 VICTORIOUS VICTORY!!!
Competition constantly inculcates the spirit of productive and constructive participation in students by honing the flair in multiple aspects. AKSHAT AGARWAL of Grade XI, SHUBHANGI KESARWANI and NIDA-E-ZAHRA ZAIDI of Grade XII with their multifaceted skills, indefatigable industry and congeniality participated in 'ARTHONOMICS- ONLINE BUSINESS AND ECONOMICS FEST' and bagged 'FIRST RUNNER - UP POSITION' and outfoxed more than 250 students of collegiate institutes and schools from all-over India and abroad. The students were also awarded with the cash prize of ₹30,000.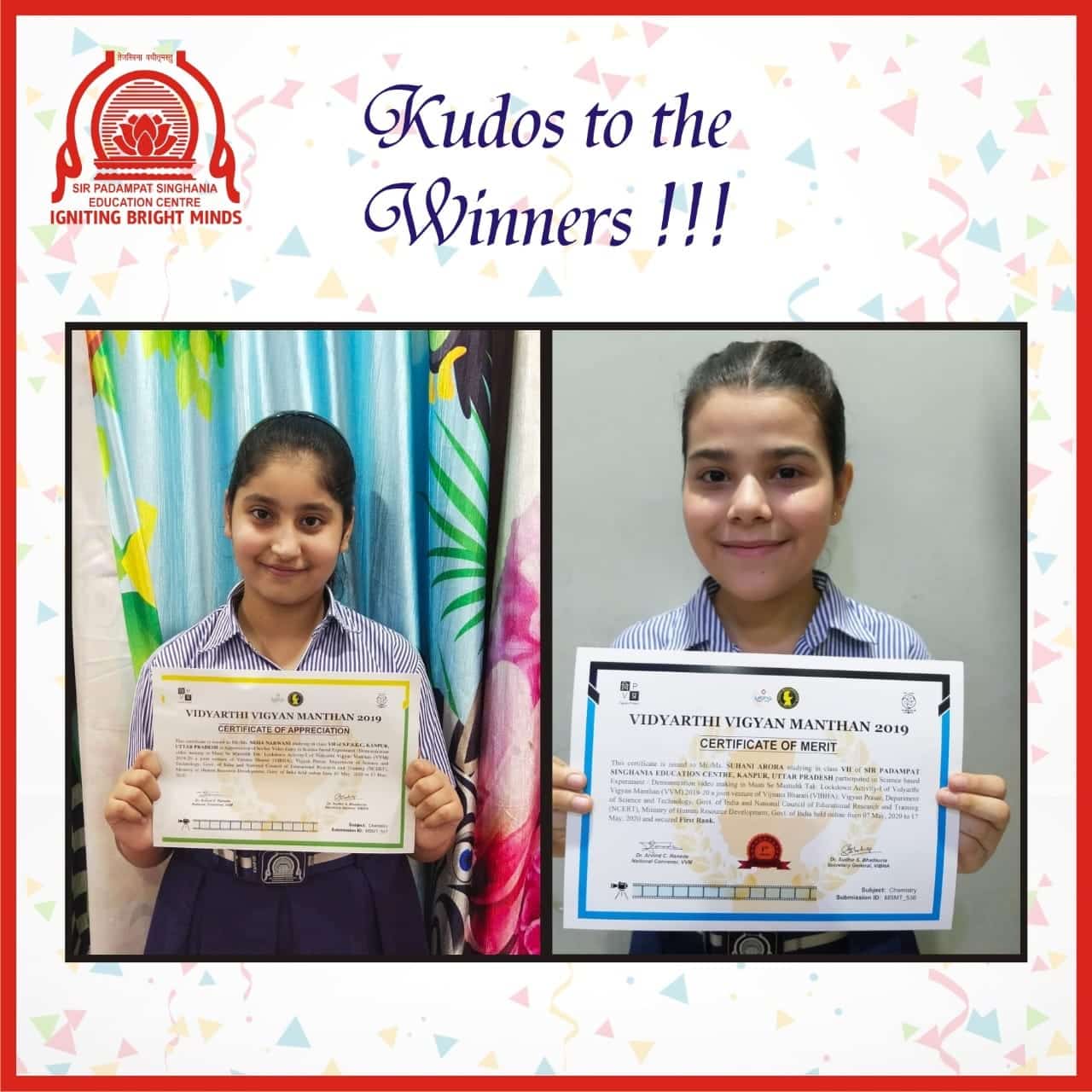 ASTOUNDING ACCLAIM !
SUHANI ARORA of Class VII accomplished fabulous feat by attaining FIRST POSITION at NATIONAL LEVEL, a Science Based Experiment Video Making Competition 'Masti Se Mastishk Tak' conducted by Vidhyarthi Vigyan Manthan-2020. This young scientist brought accolades to school with her winning experiment. NEHA NARWANI of Class VII also participated and received a certificate of appreciation for the same. .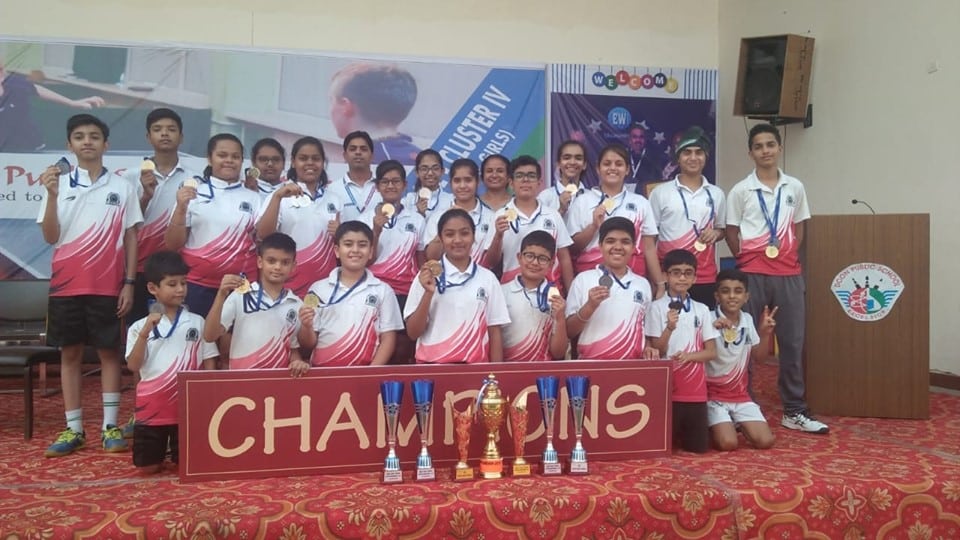 Talent wins games, but teamwork and intelligence wins championships
The exuberance and vibrance was felt among Singhanians when the players battled and attacked on the counter teams with their services and strikes in CBSE CLUSTER IV TABLE TENNIS CHAMPIONSHIP held at Hathras. The School Team victoriously bagged OVERALL CHAMPIONSHIP TROPHY along with individual winning positions in various BOYS and GIRLS individual categories .
Shri Govind Hari Singhania Antar Vidyalaya Vaad-Vivaad Pratiyogita organised at SPSEC
Sir Padampat Singhania Education Centre hosted the 7th Shri Govind Hari Singhania Antar Vidyalaya Vaad-Vivaad Pratiyogita at the imposing auditorium of GHS-IMR, Kamla Nagar, Kanpur on 11th October, 2019. SPSEC has been organizing this event for last seven years with the aim to provide an impetus to the young orators and inculcate in them the love and taste for Hindi Language. The topic of the debate was - "Kashmir Ko Mukhya Dhaara Mein Laane Ke Liye Dhaara 370 Tatha Anuchhed 35A Ka Hataya Jana Anivarya Tha"
The event commenced with the ceremonial lighting of the lamp by the Chief Guest Mr. Rajat Singh Jain (Presiding Officer, Motor Accident Claim Tribunal), the Guest of Honour, Dr. Anil Kumar Verma (Retired HoD, Political Science, Christ Church College, Kanpur & Director and Chairman, CSSP) accompanied by the Principal, Ms. Bhawna Gupta.
Sir Padampat Singhania Education Centre, Kamla Nagar, Kanpur and Sir Padampat Singhania School, Kota, Rajasthan bagged First position .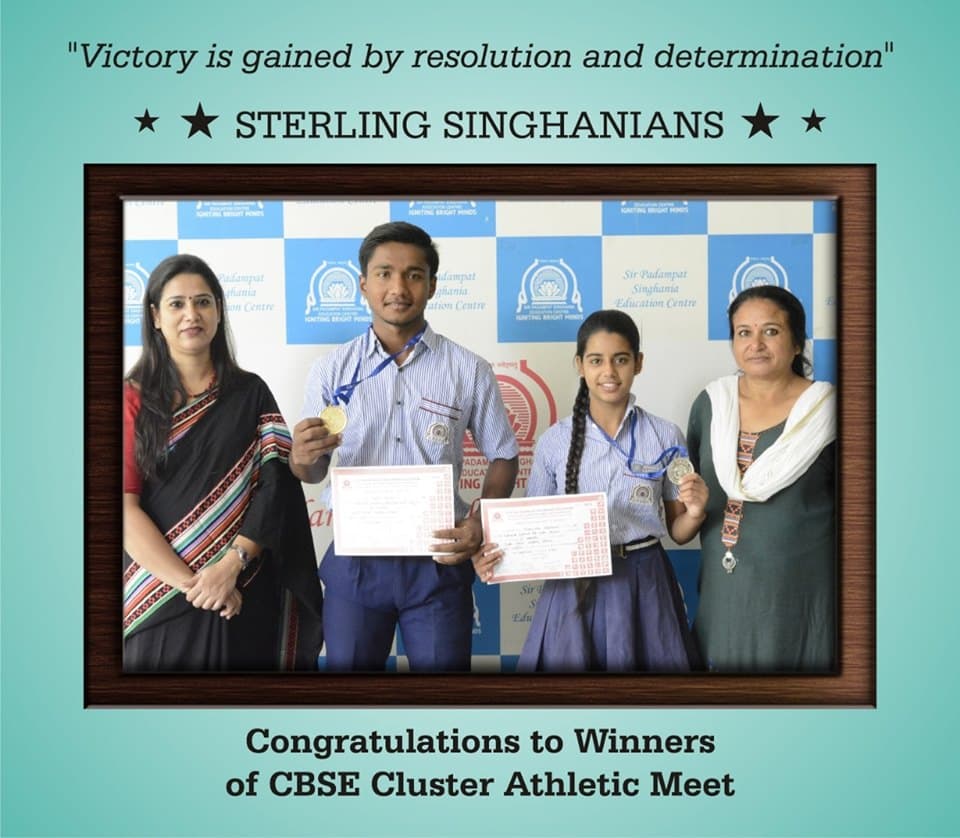 Singhanians Sweep Into Nationals!!!
SPSEC went all the way to make the CBSE East Zone Athletics Cluster a master piece by embracing the glint of gold in javelin under 19 boys category in which Mohd.Sharim of class 12 hurled the Javelin at a distance of 46.35 mts.and bagged a gold. Priyamvada Bhadouria, another athlete of the school too graced the canvas of the school with her silver medal for her star studded record in long jump under 19 girls group. Qualified for Nationals.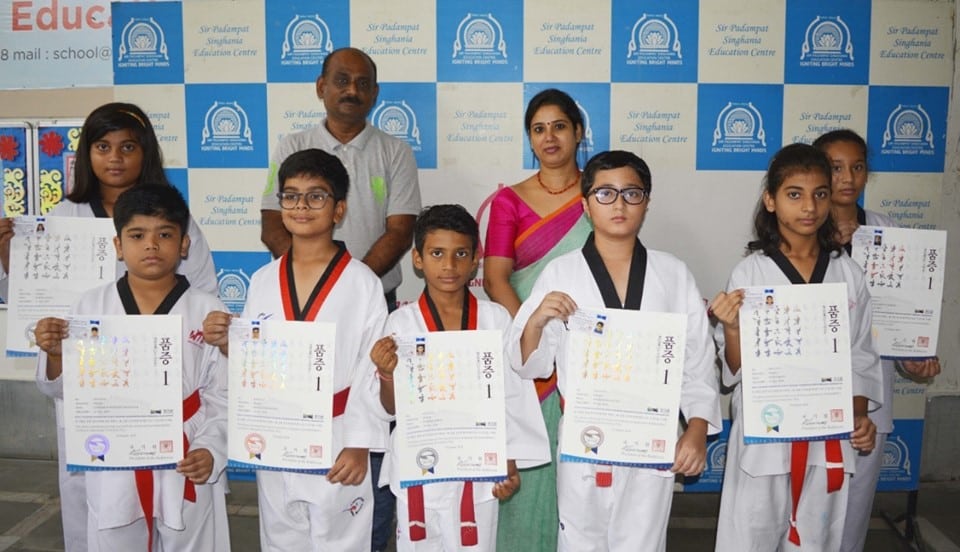 SINGHANIANS- PRIDE OF SINGHANIA !!!
Seven industrious and diligent taekwondo fighters of SPSEC with their considerable dedication, hard work, and mental preparation significantly qualified the 'TAEKWONDO BLACK BELT TEST' organised by Kanpur Taekwondo Association at Ordinance Club Cantt, Kanpur.The athletes were awarded with the certificates certified by South Korea Taekwondo Academy for their head-height, spinning and fast kicking techniques.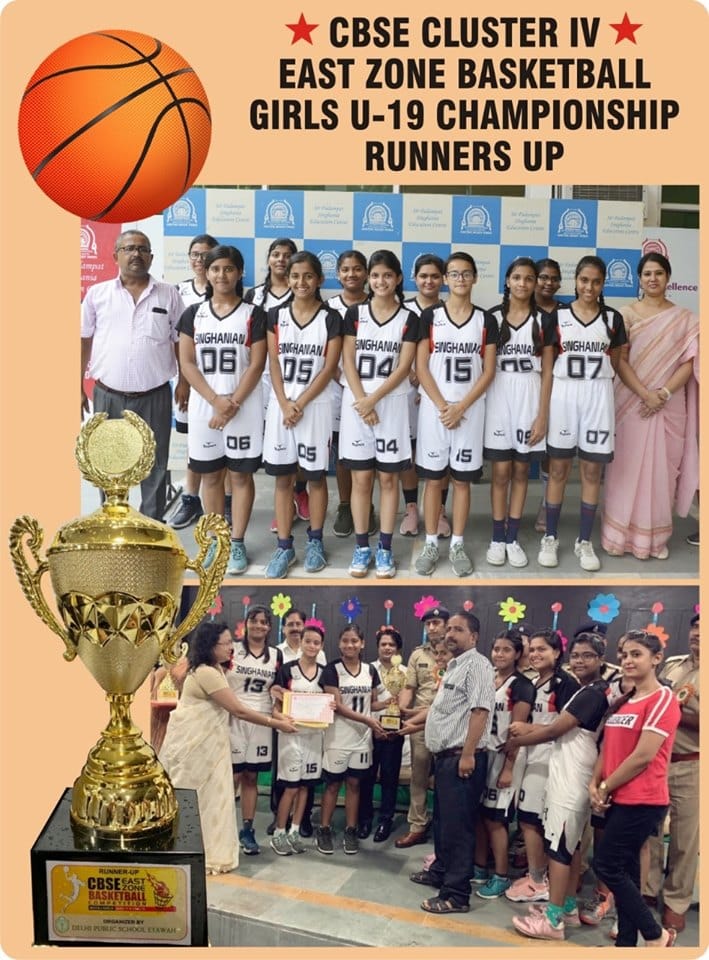 Kudos to the Winners !!!
The indomitable girls basketball team of SPSEC nailed in CBSE CLUSTER IV EAST ZONE BASKETBALL CHAMPIONSHIP UNDER 19 by trouncing the counter participating teams in semifinals and emerged as RUNNERS UP TEAM in the final match against Vidya Gyan School, Sitapur. With the participation in the competition the students experienced the thrills of gameshow.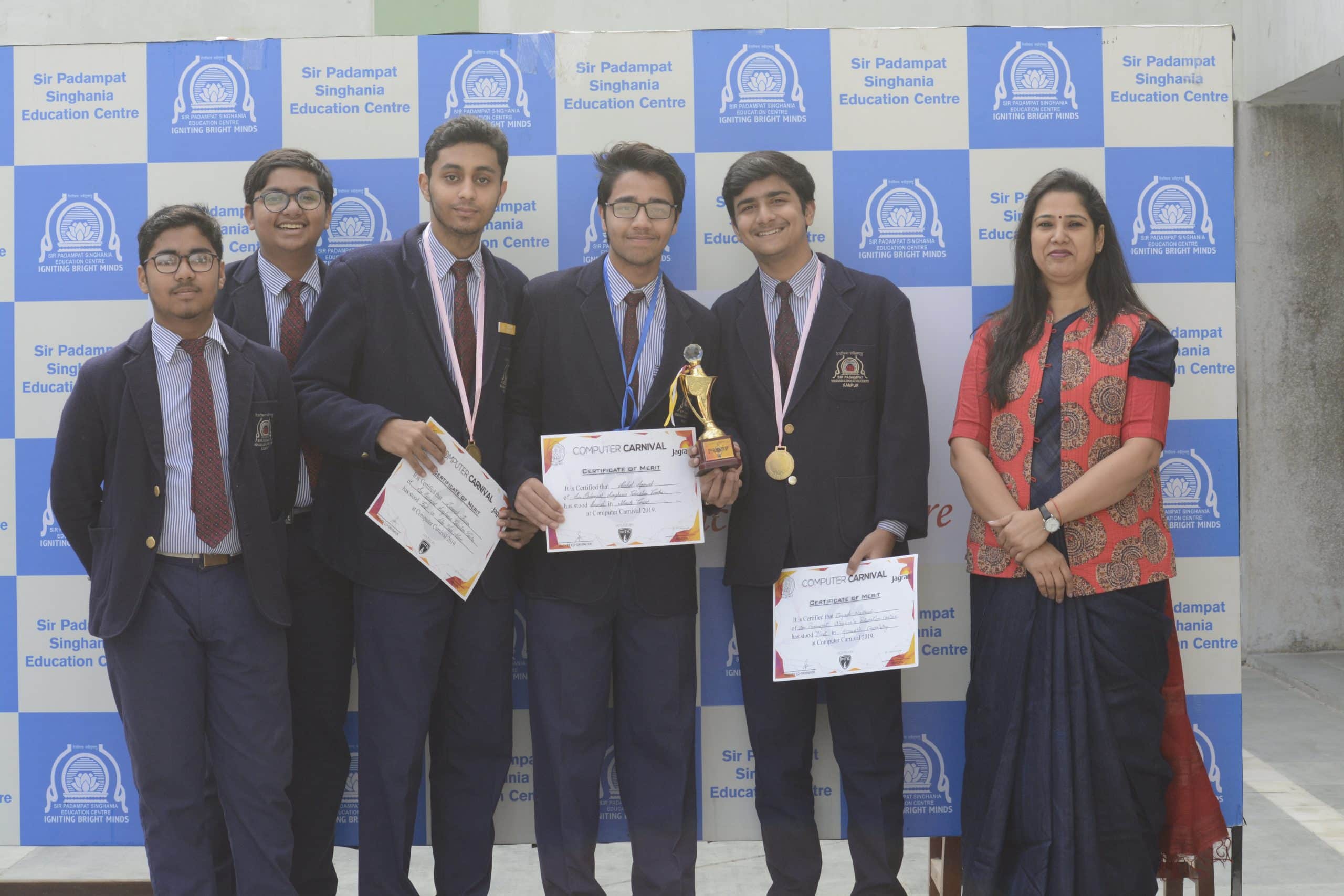 DIPPED IN THE HUES OF AWARDS AND RECOGNITIONS
Tech savvy students marked their feet as SECOND RUNNERS UP in Computer Carnival edition 2019-20 hosted by Puran Chand Vidya Niketan. Acoustic chemistry - 1st: Jayash Naithani ; Stop your move - 1st: Devansh Thapar; Revelation - 2nd: Ayush Sachan ; Jam - 2nd : Akshat Agarwal ; Pxleyes - 3rd: Ayush Sachan; Extreme Pursuit - 3rd : Rishank Sahni; 3d-fy - 3rd : Taha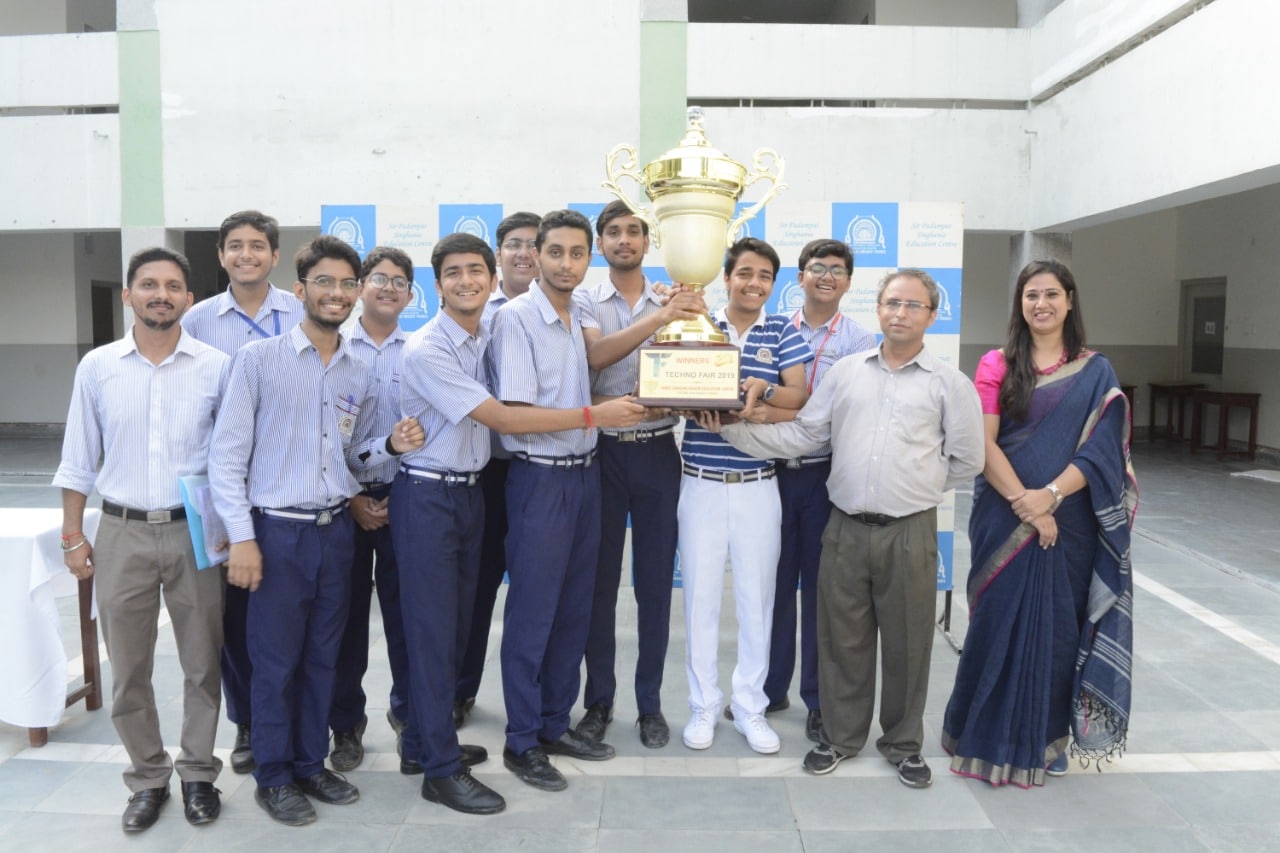 Bravo Champions !!!
You were born to win, but to be a winner, you must plan to win, prepare to win and expect to win. Once again the scholars of SPSEC have corroborated this by lifting the magnificent WINNERS TROPHY at the Techno Fair-2019 . Out of 11 individual events, Singhanians bagged 1st Position in 10 events making a swift move towards victory.
First Positions: SHREYASH TRIVEDI (GEEKOPEDIA), DEVANSH THAPAR (LIGHTS! CAMERA! EDIT!), JAYASH NAITHANI (ON YOUR EARS), TAHA SHAIKH (ANIMAZE), DEVANSH THAPAR (TAMATEBAKO), AKSHAT AGARWAL (NO SPOONERISMS), YASH RATHORE /AKSHAT AGARWAL (OCULUS) Second Position: RISHANK SAHANI (RALPH'S WORLD)
Overall it was a successful event where the bright young minds got a splendid chance to exhibit their technical skills and learn more about how technology can enhance their future.
Excellence Excels !!!
The 1st Inter School Poomsae Championship was organised by SPSEC in Collaboration with Kanpur Taekwaondo Association in its humongous ground. The entire atmosphere reverberated with the echoes of applause when Star Studded Singhanians lifted the CHAMPIONSHIP TROPHY by defeating other participating teams and bagged 13 gold and 5 silver medals. Diya Manwani of Grade III was awarded with the best player award of the tournament.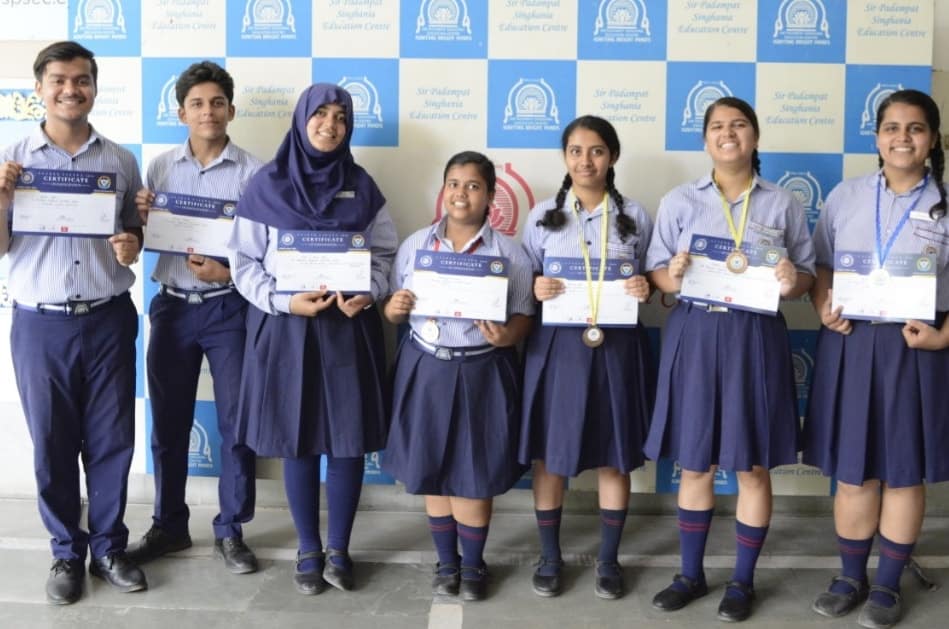 Kudos to the Winners !
SPSEC significantly marked its presence with the pertinacious participation of young Singhanians in SCIBER FIESTA- AN INTER SCHOOL TECHNO CULTURAL LITERARY FEST. It is once again a proud moment for the school as the splendid Singhanians with their spectacular performances attained sweeping victory and bagged winning prizes in various events
First Position: Ad Lib- Shubhangi Kesarwani, Shashwat Nida -e-zahra Zaidi, Shiwansh Sharma
Second Position: Immortal Etching - Shivansh Sharma Trash to treasure- TEAM
Third Position: Virtual Arena - Shivansh Sharma Creatoons - Jayash Nathani Minute to minute- Ruksad Gazi Mind your own business - Divyansh Awasthi and Tanishka Shukla Chronicles compile- Ayush singh