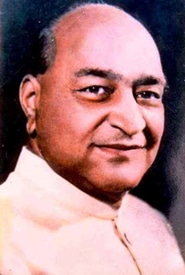 Sir Padampat was born on 3rd Feb, 1905 to Shri Kamlapat and Rampyariji Singhania, a leading merchant family of the old town of Kanpur. The Singhanias had come a long way from a tiny village "Singhania" in Rajasthan from where they migrated to Farukhabad in 1856. A highly zealous and enterprising nature brought them to Kanpur in 1860, the then industrial nerve centre of British India.
At the young age of 12, Padampat started shouldering major responsibilities in the then newly established J.K Cotton Spinning & Weaving Mills – a venture wholly managed and financed by the Indians in the true spirit of the Swadeshi movement. After his father's death in 1937, Padampat stepped into his shoes. His vision and entrepreneurial acumen turned the J.K. organization into an industrial colossus of India.
His exceptional work in varied fields won him "Knighthood" from the British in 1943, and since then he began to be called "Sir Saheb". Sir Padampat was also one of the founding fathers of and a signatory to the Constitution of India.
Sir Saheb built many educational, medical and religious institutions for the good of the people. He showed others how a vast empire of industries and institutions can be established with dedication in a single generation. His life which was devoted to the service of humanity was full of glorious achievements. Education was one of his major concerns and always a prime agenda for him. This great visionary left for heavenly abode on 18th November, 1979 leaving an indelible mark in the history.
In 1982, Lady Anusuiya Singhania laid the foundation stone of SPSEC in the memory of her husband, Late Sir Padampat Singhania. The founders who had already established a chain of high class educational institutions at various J.K industrial units in the country decided to develop a model educational centre in Kanpur under their direct supervision. It was their keen interest and involvement that motivated the teachers and the students to achieve excellence in all fields.