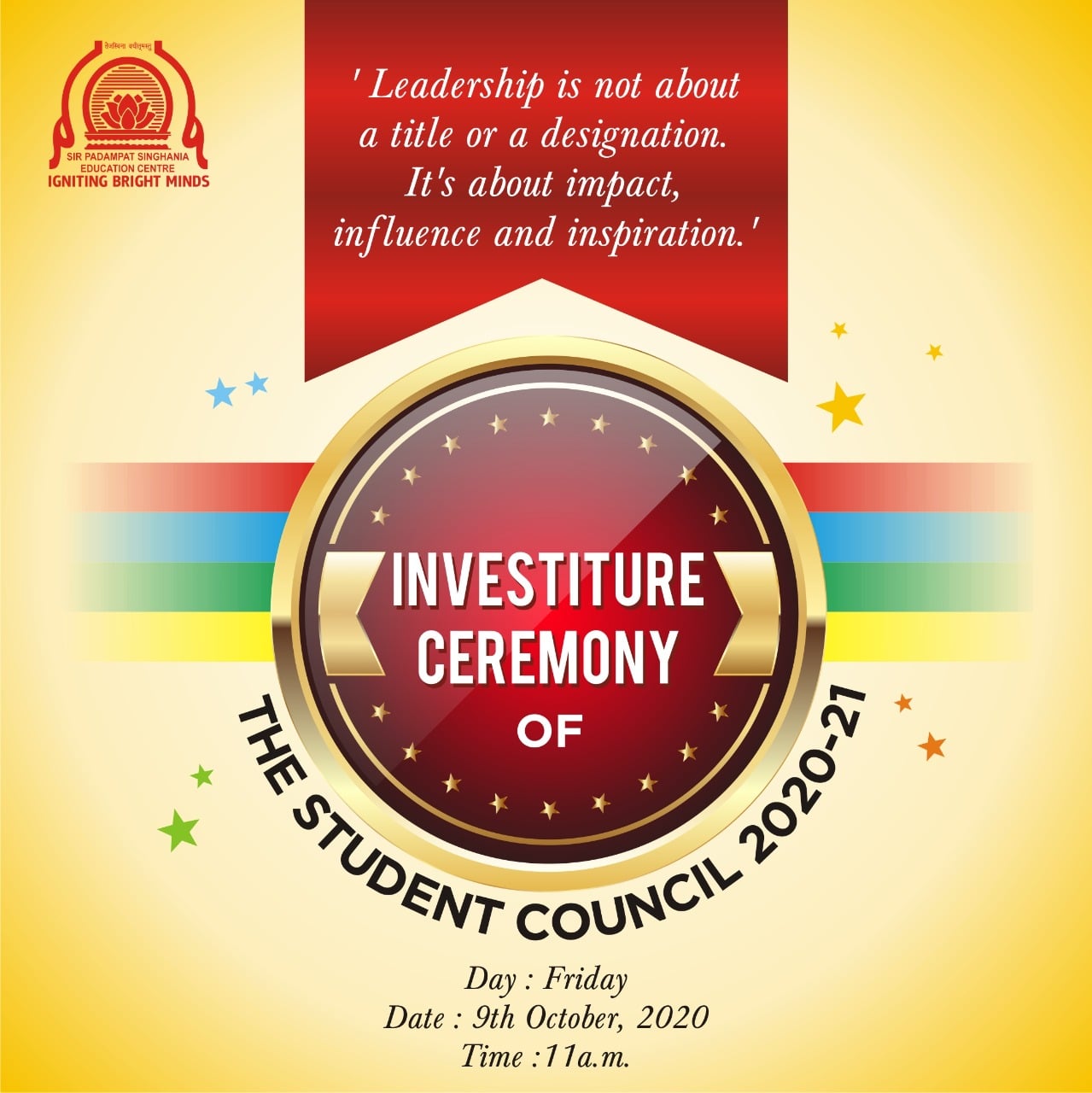 FIRST ONLINE INVESTITURE CEREMONY 2020-21 AT SIR PADAMPAT SINGHANIA EDUCATION CENTRE

"Leaders instil in their people a hope for success and a belief in them. Sir Padampat Singhania Education Centre bequeaths upon its students to be the future leaders of the world by indoctrinating the leadership qualities and providing them a feel of functioning of the administrative body. The Investiture Ceremony subsumes prudent selection of the potential future leaders and bequeaths them with powers and positions to serve their peers with ingenuity and distinction. 

The First Online Investiture Ceremony for the new Student Council for the session 2020-21 was held on 9th October, 2020 on virtual platform with highest degree of candour and fervour. The event commenced with the welcoming of the Principal, Ms.Bhawna Gupta and the Vice Pincipal, Ms. Kavita Chaddha by the compere Ms. Vibha Dwivedi (Sr. English Faculty) The Principal, Ms.Bhawna Gupta conferred the responsibility for the new session 2020-21 to the House Mistresses and the House Masters of all the four houses, Ms.Agnita Naha (Vindhya House), Mr. Saurabh Shukla (Himachal House), Ms. Seema Singh (Yamuna House) and Mr. Hemant Verma (Ganga House).

Sixty new members of the Student Council were declared. Nida-E-Zahra-Zaidi as the School Captain, Ayush Sachan as School Prefect, Akshat Agarwal and Sonakshi Bajpai as the Vice-Captain(s), Devansh Thapar as the Tech-Squad Head, Ujjwal Pandey and Kabeer Ahuja as the Sports Captain, the Cultural Secretary(s) Shubhangi Kesarwani, Shambhavi Jay, Ruksad Gazi and Yuvika Singh ,the Cultural Joint Secretary (s) Pari Arora, Kavya Jindal, Aabhash Mukherjee and Joytsna Mishra were delegated positions and responsibilities by the Principal.

The newly appointed School Captain pledged that the new Student's Council will carry out their obligations with stanch endurance, submission, truthfulness, veracity and gusto. The council, donning the mantle of accountability also pledged to bequeath their duties to the best of their abilities by living up to the expectations and working in sync with the mission of the school.

The Principal, Ms. Bhawna Gupta, delivered a motivational speech and insisted on integrity and discipline. She congratulated the newly appointed school cabinet members for their preparedness to take responsibilities. She gave a call to every member of the School Cabinet to be exemplary to other students and serve them well. She also emphasised on the importance of discipline and dignity of the individual and of the school.

Thereafter, the School Captain, Nida-E-Zahra-Zaidi culminated the ceremony with the Vote of Thanks. It was indeed proud moment for the Singhanian fraternity. Their hearts were filled with pride as their minds reflected on the famous quote "Leadership is not about glorious crowning acts. It's about keeping your team focused on a goal and motivated to do their best to achieve it."