It is not enough to be compassionate. You must act. - Dalai Lama
Treading on the footprints of its revered founder, Sir Padampat Singhania Education Centre provides a platform to its students where they can develop the empathy for the lesser privileged and learn the nitty - gritties of Social Work through its project, Disha, a goal oriented programme initiated in the year, 1992 with an aim to create self employment opportunities and give an upward thrust to those who need it. Disha family got a boost this year on 14th May, 2019 when 15 new members from 'Loharan ki Basti' joined the group and learned the skills of drawing, painting, tailoring, candle making, batik, tie and die, soft toys, Dari Weaving, Carpet Weaving and Shoe Making. Alka, the youngest member who is preparing for her Medical and has appeared for the NEET beamed with joy as the teachers came forward to help her.
DISHA:
It is a student based social work and community service club run by Sir Padampat Singhania Education Centre which works in providing vocational training to develop entrepreneurial skills in the weaker section of the society. Disha was initiated by our Chairman Mr. Govind Hari Ji Singhania in the year 1992. Disha inculcates professional and academic discipline amongst the students of class X helping them to seek improvement in their quality of life and enhance their wellbeing.Disha provides security to the underprivileged, psychosocial care to mentally and physically disabled.This economic empowerment for women primarily focuses on providing economic self-reliance, entrepreneurship, confidence and personality development and access to employment.
Dishs's effort s at the grass root level amongst the underprivileged sections of the neighborhood have successfully inspired female literacy along with enabling women develop the creative skills and capability to stand in their own feet and care for themselves and their families also.Disha trains the women to perfect the art of making fragrant candles , recyclable paper bags , carpets , pickles , jams , juices , diyas and cloth bags.
SCHOOL ON WHEELS:
Knowledge holds power and controls the access to opportunity and advancement. School on wheels aims to give an equal chance at education to the underprivileged so they can integrate with children of private schools and later with the society. We believe that children cannot be left out to pursue and education and teaching will empower them to foster a lasting change in the social setup of our community. Solely funded by the collaborative efforts of teachers and students, School on Wheels travels to the nearby regions with the requisite resources to educate the underprivileged children.
Our students understand the possibilities that the school is instilling in them through the right education therefore they have taken the initiative to contribute back the same.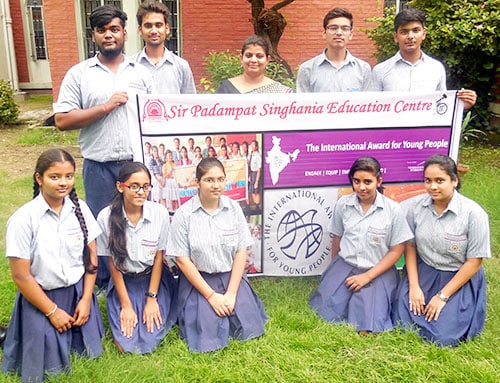 INTERNATIONAL AWARD FOR YOUNG PEOPLE(IAYP):
Sir Padampat Singhania Education Centre became the first school in Kanpur region to be an authorized institution to carry forward IAYP on 1st May 2013.IAYP appealed the school with the concept of individual challenge that encourages young people to take responsibility for their own development . The Award is an exciting self-development programme available to all young people worldwide, equipping them with life skills to make a difference to themselves, their communities and the world. Anyone aged between 14 and 25 can experience challenge and adventure, acquire new skills and make new friends. The Award has a presence in more than 143 countries.
The great strength of the Award is that it can be used by anyone working with young people. Its flexible programme ensures that it is of relevance to all young people, regardless of their background and circumstances.
The Award is a life changing experience that enables students to:
Gain recognition for extra/co-curricular activities
Improve their personal development by learning new skills such as time management, team work and problem solving
Build their confidence by trying something new
Make a positive impact on their community through volunteering
Undertake activities that support applications for college, university or employment
The Award also offers direct benefits to schools, which include:
Participation in an internationally recognised programme
A framework for the delivery of extra/co-curricular activities
Improved relations between pupils and teachers
Better team work amongst classmates
Better interaction and improved relations with the local community
INTACH - INDIAN NATINAL TRUST FOR ART AND CULTURAL HERITAGE:
INTACH's mission to conserve heritage is based on the belief that living in harmony with heritage enhances the quality of life, and it is the duty of every citizen of India as laid down in the Constitution of India. The objectives spelt out in the Memorandum of Association constitute INTACH's Mandate and Vision. Its stated mission to date continues to be:
Sensitize the public about the pluralistic cultural legacy of India
Instill a sense of social responsibility towards preserving India's common heritage
Protect and preserve India's living, built, and natural heritage by undertaking necessary actions and measures
Document unprotected buildings of archaeological, architectural, historic and aesthetic significance, as well as the cultural resources, as this is the first step towards formulating conservation plans
Develop heritage policies and regulations, and make legal interventions to protect India's heritage when necessary
Provide expertise in the field of conservation, restoration and preservation of specific works of art; and encourage capacity-building by developing skills through training programmes
Undertake emergency response measures during natural or man-made disasters and support the local administration whenever heritage is threatened
Foster collaborations, Memoranda of Understanding (MoU) and partnerships with government and other national and international agencies
Generate sponsorships for conservation and educational projects