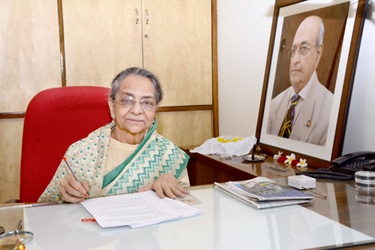 Desire is the key to motivation, but it is determination and commitment to an unrelenting pursuit of our goal a commitment to excellence that will enable us to attain the success we seek. It has been thirty odd years now since my mother laid the foundation stone of an institution that has conscientiously and gloriously marched forward and established itself as a scared tabernacle of growth, development, innovation and above all, honest learning.
As I write this, I see before me, decades of hard work and dedication put in by the honest teachers who touch lives of innocent souls, every day.
I see before myself, thousands of dignified, honorable and noble individuals dedicated to enriching our magnificent society and imparting civil education.
Father's Name: Late Dr.Sir Padampat Singhania
Mother's Name: Late Smt.Anusuiya Devi Singhania
Date of Birth: March 19, 1937
Place of Birth: Kanpur
Marital Status: Married on 15th February, 1955
Spouse's Name: Smt. Manorama Devi Singhania
Children: One Son and Four Daughters
Educational Qualification: Graduate from Christ Church College, Kanpur (Agra University)
Profession: Business Management