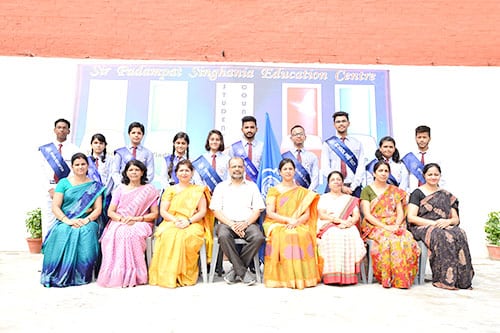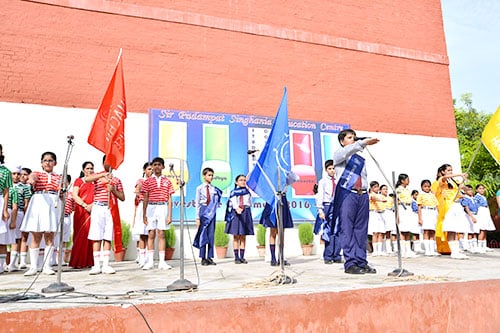 School council is constituted every year to inculcate an administrative capacity of the students. It helps in regulating matters of discipline and various co-curricular activities.
It has got different posts comprising of students from classes-IV &V (Junior wing)
and classes IX to XII (Senior wing). School council is made by doing scrutiny at different levels. The selection of the students for the council is done on the basis of their academic and co-curricular achievements, their manners and etiquette, their concern for school discipline and surroundings. It involves a committee comprising of CCAs, supervisors, vice-principal and principal.
The following are the posts or badges given to the students.
SCHOOL CAPTAIN
SCHOOL PREFECT
SCHOOL VICE-CAPTAIN (G)
SCHOOL VICE-CAPTAIN (B)
SPORTS CAPTAIN
SPORTS VICE CAPTAIN
CULTURAL SECRETARY
CULTURAL JOINT SECRETARY
HOUSE CAPTAIN
HOUSE VICE CAPTAIN
HOUSE PREFECT
HOUSE MONITOR
SENIOR WING:
SCHOOL CAPTAIN - Udit Pratap Singh - XII F
SCHOOL PREFECT - Anuj Pratap Singh - XII F
SCHOOL VICE-CAPTAIN (G)- Soumya Dwivedi - XI A
SCHOOL VICE-CAPTAIN (B) - Parth Agarwal - XI C
SPORTS CAPTAIN - Rishi Singh Rajput - XII F
SPORTS VICE CAPTAIN - Hemant Kumar - XI F
CULTURAL SECRETARY (G) - Trisha Bhattacharya - XII D Aneesha Gupta - XII G
CULTURAL SECRETARY (B) - Waki Malik XII F
CULTURAL JOINT SECRETARY (G)- Chaya Ginani - XI B
CULTURAL JOINT SECRETARY (B) - Shagun Shukla
PRIMARY WING:
SCHOOL CAPTAIN (B)- Vinayak Gupta - V C
SCHOOL CAPTAIN (G)- Vanshika Agarwal -V D
SCHOOL VICE-CAPTAIN (B)- Harshit Singh - IV B
SCHOOL VICE-CAPTAIN (G)-Taranpreet Kaur - IV C
SPORTS CAPTAIN - Shreshtha Singh - V C
SPORTS VICE CAPTAIN - Gunjan Gupta - IV B
SCHOOL PREFECT - Revant Khanna - V D